Karate & Relax Summer Session 2014



CITTA' DEL MARE 12th - 15th JUNE 2014
After the exciting winter event in Tarvisio , the staff of Karate & Relax is
ready to begin another adventure :

the 5th International Seminar of Città del Mare



From Thursday 12 to Sunday 15th June 2014 the Coachs of the Italian national Team and kARATE world champions share their knowledge and their experiences with the participants in the Stage KARATE & RELAX - summer session.

The training will be coordinated by Sensei A. Valdesi and directed by
world-class technical :

Luca Valdesi
World and European Champion in kata
Coach of the Italian national team Shotokan Kata

David Benetello
World and European Champion kumite
President of the World Commission WKF Athletes
Coach of the National Youth team Kumite

Salvatore Loria
European champion in kumite
National Kumite Coach

Ivan Leal ( Spa )
World and European champion kumite

Stefano Maniscalco
World and European Champion in kumite

Vincenzo Figuccio
World and European Champion in team kata
Athletic Trainer of the Italian national

and for the first time in Italy ...
Hoang Ngan Nguyen (Vie)
kata World Champion


and with :
Claudio Culasso , Fulvio Sole, Nello Maestri .......



COSTS

From the dinner of Thursday to the lunch of Sunday:
adults € 270,00
under 14 in third bed € 220,00

From the dinner Friday to the lunch of Sunday
adults € 220,00
under 14 in third bed € 190,00

- Price with seminar included -


For accompanying prices are:

3 days € 200,00
under 14 years in third bed € 165.00

2 days € 145,00
under 14 years in third bed € 125.00


Only seminar:

6 training sessions (from Thursday to Sunday) € 110,00

4 training sessions € 90,00

2 days (Saturday and Sunday) € 80,00

Children under 4 years free


Transfer airport-hotel and hotel-airport Falcone-Borsellino (Punta Raisi) 5 euro each way. FREE for those who book before April 5.


N.B.: Prices per person in triple room;
20:00 EUR Single supplement per day.

The prices are for full board and include entry into the pool, disco and all the free activities of the recreation village.



---------------------------------------------------------------------------------------------------



Karate & Relax Winter Session 2014

Tarvisio 2014

IV International Stage in Tarvisio (UD-Italy) 2014
From 2nd to 5th January



After the great success of the last editions, Sensei Andrea Valdesi, Davide Benetello and Luca Valdesi, in collaboration with the Friuli Venezia-Giulia Karate Board, are pleased to present the IV International Karate & Relax Stage (winter session).


Enjoy 4 days of karate and fun with the World Karate Champions and the Italian FIJLKAM coachs from 2nd to 5th January at Nevada and Haberl hotels.

January 2nd: arrival and accomodation starting from 2pm; at 5.30pm opening of the classes and first training session at the Palazzetto dello Sport of Tarvisio.

The seminar includes 6 training sessions of Kata and 6 of Kumite and it finishes with the Sunday morning training.

Every course is divided by age and by belt.








----------------------------------------------------------------------------





CITTA' DEL MARE 2013
The staff of Karate & Relax never stops ...
After the great success of Tarvisio we are ready for the summer event.
From 6th to 9th June 2013 the most awaited event in the world of karate recurs in the beautiful surroundings of Città del Mare in Terrasini (Palermo), under the banner of Karate, the Fun and Relax.
A few kilometers from Palermo's Airport, best athletes and teachers on the international scene will take turns on the tatami to share with the participants their experience and professionalism.
6 lessons of Kata and 6 lessons of Kumite with :
Luca Valdesi, Davide Benetello, Vincenzo Figuccio, Stefano Maniscalco, Lucio Maurino, Savio Loria, Viviana Bottaro, Luigi Busà, Fulvio Sole .. and Claudio Culasso, Cinzia Colajacomo, Nello Maestri, and others.
Karate & Relax ... only the best!

KARATE & RELAX TARVISIO 2013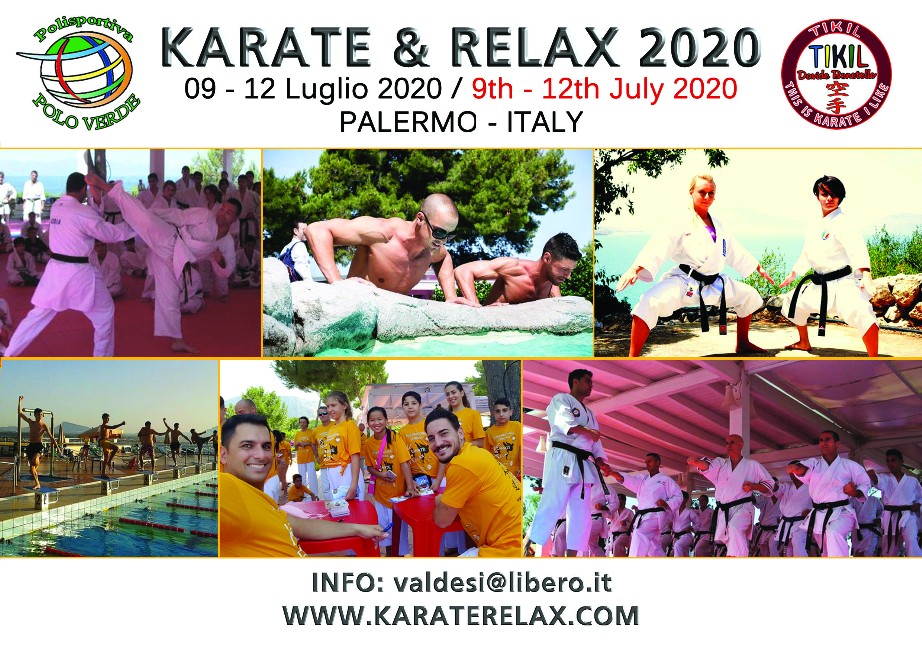 TARVISIO 2013
The success is repeated...
From 3th to 6th January 2013 was held in Tarvisio (UD), the third edition of "Karate & Relax" winter session. Four days of karate, relaxation and fun in the clubs and on the slopes of the ski resort of Friuli.
A lot of the topics studied and deepened by the teachers during the 4-day stage, always ready to answer questions from students and satisfy their curiosity.
There have been occasions aggregation and entertainment, such as dinner in the lodge,the evening at the pub and the farewell party.
The hours of training have left so much free time to go skiing in the beautiful ski a few steps from the hotel.
A great way to start the new year with determination, optimism and joy.
We can only give you an appointment at the summer session of Karate & Relax with the stage ofCittà del Mare 2013, Terrasini (Palermo),from 6th to 9th June.
Do not miss!

FOTO
ARCHIVIO 2012
Stage estivo "Karate & Relax"


Grande successo anche quest'anno per lo stage internazionale "Karate & relax" di Città del Mare.
L'evento, che ormai è diventato un MUST per tutti i praticanti di karate, si è svolto sotto l'attenta guida ...
CONTINUA A LEGGERE


Stage invernale "Karate & Relax"

Splendida risposta per la II edizione di "Karate & Relax" Sessione Invernale
di Tarvisio.
Oltre 250 persone erano presenti
all' appuntamento ...
CONTINUA A LEGGERE

STAGE INVERNALE 2013
"KARATE & RELAX" TARVISIO (UD) 2013

Siamo giunti al 3° anno del seminario invernale più interessante e coinvolgente degli ultimi anni !
Dal 3 al 6 di Gennaio tanto karate e divertimento con l'entusiamo e l'aggregazione che contraddistingue questo evento.
6 lezioni di kata e altrettante di kumite, nella splendida cornice montana di Tarvisio a pochi passi dagli impianti sciistici.
Non perdete l'occasione di lavorare con i campionissimi di sempre:
Luca Valdesi, Davide Benetello, Savio Loria, Stefano Maniscalco, Vincenzo Figuccio.
Un team vincente pronto a condividere con voi tutto il loro sapere.
NON MANCATE !!!